How about giving some of the responsibility back to the students. Have the students self-monitor their own behavior! This really shows them that they are charge of their own behavior and really makes things real because they are now having to collect the data and always see the numbers growing.
Here are some ideas on how to get students involved in self monitoring:
1. Have them keep a tally of their behaviors. You can pick target behaviors that you want them to keep track of. When you see the behavior, have them mark a tally.
2. Set goals with them and have them track their progress on their goals through graphs.
3. Have them keep a graph of their test scores
There are so many more ways! I plan to get my students very involved in self-monitoring this year. I am starting data binders with my students. Check out
Rockin' Teacher Materials'
blog. She has shared some great ideas about data binders, including freebies.
She has more than one post about it, so make sure you follow links to find even more.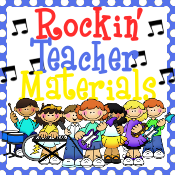 Feel like you have a lot of paperwork and you never know how to get it all done? I do!!!